Things to keep in mind
You should take care if...
When bathing, make sure to consider your own condition and respect bathing rules.
■After drinking alcohol
Drinking alcohol suddenly changes your blood pressure, which can present the risk of cerebral anemia.

■Right after eating
Bathing affects your blood, skin, and kidneys, which can worsen digestion and absorption. After eating, make sure to rest for thirty minutes to an hour before getting in an onsen.

■Right after exercising
Bathing can make it harder for muscles to relax and can place a greater burden on your heart. Wait at least thirty minutes after exercising before bathing.

■When you have a cold
You shouldn't immerse yourself in hot water when you don't feel well. If you don't have a fever, it's a good idea to take a relaxing bath in warm water while taking care not to become chilled afterwards.

■Bathing in hot water
Elderly people or people who have high blood pressure, arteriosclerosis, heart disease, or disorders of the respiratory organs should not bathe in water that is 42°C or hotter.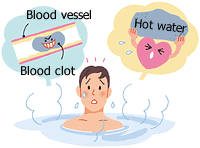 You should avoid onsen bathing if...
If your body is weakened by illness or other causes, the medicinal components in onsen may have adverse effects.
■

People with the following conditions should avoid onsen:

・Advanced rheumatoid arthritis

・Colds or other acute illnesses (fever)

・Cancer, leukemia, sarcoma

・Acute communicable disease

・Serious high blood pressure or arteriosclerosis

・Serious diabetes

・Serious heart disease or kidney disease

・If you have recently experienced cerebral haemorrhage or gastroduodenal ulceration

・Large vessel aneurysm

・If you are in the early or late stages of pregnancy (*Pregnant women may enter the sleeping bath twice a day)
■

People with the following conditions should avoid sulphur springs:

・Elderly people, people with dry skin, people with extremely sensitive skin (especially people with photodermatosis)
■

People with the following conditions should avoid drinking water from the following types of springs:

・Sulphur springs, simple carbon dioxide springs: If you are experiencing diarrhea

・Chloride springs, sodium bicarbonate springs, sodium sulphate springs: People with kidney disease, high blood pressure, or edema

・Springs that contain iodine: People with hyperthyroidism