Other types of bathing
Onsen resorts all over the country feature a variety of unique bathing methods. This page introduces a few of the more unusual ones, each of which has different beneficial effects. Why not try one that is ideal for your own constitution and physical condition?
Utase-yu (waterfall bath) "For shoulder and lower back pain..."
This type of bath features hot water that falls from a high location, relieving muscle pain through pressure and warmth. Try standing, sitting, or covering the affected area with a towel to find the water pressure that's ideal for you. If there's enough space, laying down and allowing the water to hit your lower back is also beneficial.
Please note!
Five minutes per body part, for a total of about fifteen minutes, is ideal.
Caution!
If the waterfall is too strong or you spend too long in it, you might experience increased stiffness. And depending on the type and cause of the pain, it might grow worse when exposed to the utase-yu. If so, stop using the bath immediately.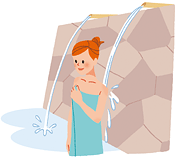 Mushi-yu (steam bath) "Truly relaxing..."
The mushi-yu warms your body with onsen steam, which means that you experience no hydrostatic pressure. There are many types of mushi-yu, including the normal type that makes use of steam that rises from a high temperature onsen in a small room, a "steam box" where you immerse your body in steam up to your neck, or a special bath for hemorrhoids that steams your posterior only.
Caution!
Your body experiences no hydrostatic pressure, but the high temperature means that people with disorders of the heart or lungs should not use this type of bath. Don't forget to re-hydrate yourself after bathing, and limit water vapor steam baths to short periods only.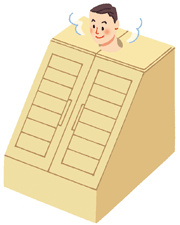 Jizoku-yu (long bath) "A long, soothing soak..."
With this type of bath, the bather spends between two and three hours – or even more – stretched out in in a 34 to 37°C onsen. The warm water doesn't affect your blood pressure or heart rate, or stimulate the parasympathetic nervous system, so it's gentle to both mind and body.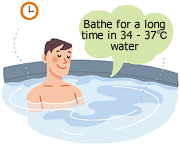 Suna-yu (sand bath) "Warm your body to the core…"
The suna-yu is a type of steam bath where the bather rests inside sand that has been warmed by chloride spring water that gushes forth at the coast. The weight and temperature of the sand improve blood circulation and relax muscles. Chloride spring water is effective for keeping you warm even after bathing.
Please note!
Ten to fifteen minutes per time is ideal. Suna-yu have gained popularity with women who visit them to beautify skin and help lose weight.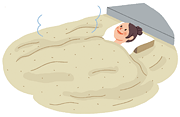 Awase-yu (series of baths) "Combine baths for a stimulating, soothing harmony..."
With the awase-yu, the bather immerses themselves in different onsen with varying strong and gentle water qualities. By combining stimulus and relaxation, beneficial effects can be had on skin diseases, atopic dermatitis, athlete's foot, trichophytosis, and more.

Stimulating: Acidic spring
Relaxing: Sulphate spring or simple spring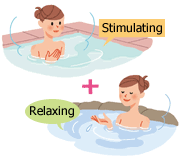 Deiyoku (mud bath) "Beautify skin..."
Deiyoku refers to a bath where the bather submerges themselves in mud that contains onsen components. The mud does not feel warm against the body, so you can spend a long time in the bath and allow the onsen ingredients to be fully absorbed into your skin. This helps make skin more beautiful.